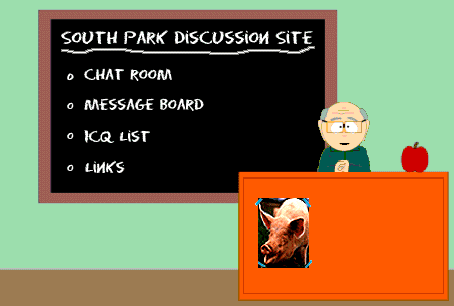 Welcome to the South Park Discussion Site. Here you can chat with fellow South Park fans, post on a message board, and join the first official ICQ list. I have scoured the internet in search of legitimate information, chat. While the sites themselves have a heap of information, I enjoy talking to the fans about stuff other than the fact that the show kicks ass (which we all know), and which seems to be the predominant discussion going on in the listserv. It's hard to weed through that, so I have offered an alternative. I hope you enjoy it here and let's hope the one-liners are kept to a minimum! Enjoy!

---
Hey! Look at what I made!
I've been getting into this stuff called fimo. It's this type of polymer clay that is precolored, and you can sculpt with it. You only need to bake it in the oven and it dries. Still breakable, but you get the picture. This is just a hobby and I'm just basically showing off. I've also done a Kyle figure but haven't scanned it in yet, and Kenny and Stan are in the works. If you're here, I figured you'd be interested at least partially. Let me know what you think of it if you feel like it!

---
Do you have a South Park Site?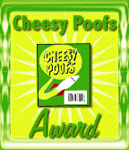 Win the Cheesy Poofs Award!
temporarily unavailable, sorry.
---
Announcing the South Park Tidbits newsletter!

About twice a week (give or take) I sent out a South Park Tidbits newsletter. In it you will find a small "did you know" or other quirky bit of info that most would find interesting along with any announcements or happenings either on the show, on the net, or anywhere comprising of something worthwhile to put in the newsletter. If you have a new website to announce, an event, or anything interesting related to South Park, please e-mail me and your information will be included in the next letter. Subscribe to South Park Tidbits.

Unsubscribe from South Park Tidbits.

Kenny has died
times.


Next Page
Skip It
Next 5
Prev
Random
---